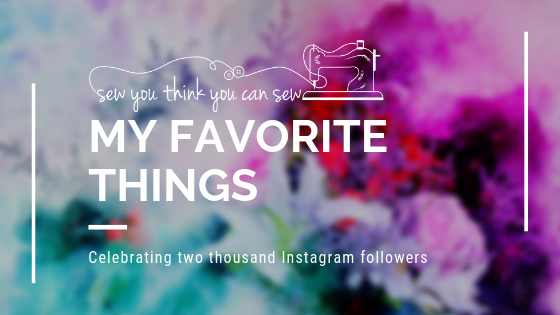 A Few of My Favorite Things
When I started my sewing journey almost 3 years ago I had no idea what a big part of my life it would become. Sewing has given me confidence in my day to day life in a way I never expected. I'm finally comfortable in my own skin, I spent so many years hating the clothes I wore because they didn't fit me right or weren't the right style. Now I can make exactly what I want and it fits me! But the best part of sewing is the community I have gained. Some of my closest friends now are people I would never have met were it not for sewing and as I celebrate reaching two thousand followers on Instagram today many of those I am honored to call my friends. So thank you to this wonderful community and I am looking forward to many more years of growing and learning together!
To celebrate I thought it would be fun to do a round up of a few of my absolute favorite projects/patterns. I'm also giving away a bundle to one lucky follower on IG containing a few of my favorite things, generously donated by a few of my favorite companies! So make sure you hop over to my Instagram to enter!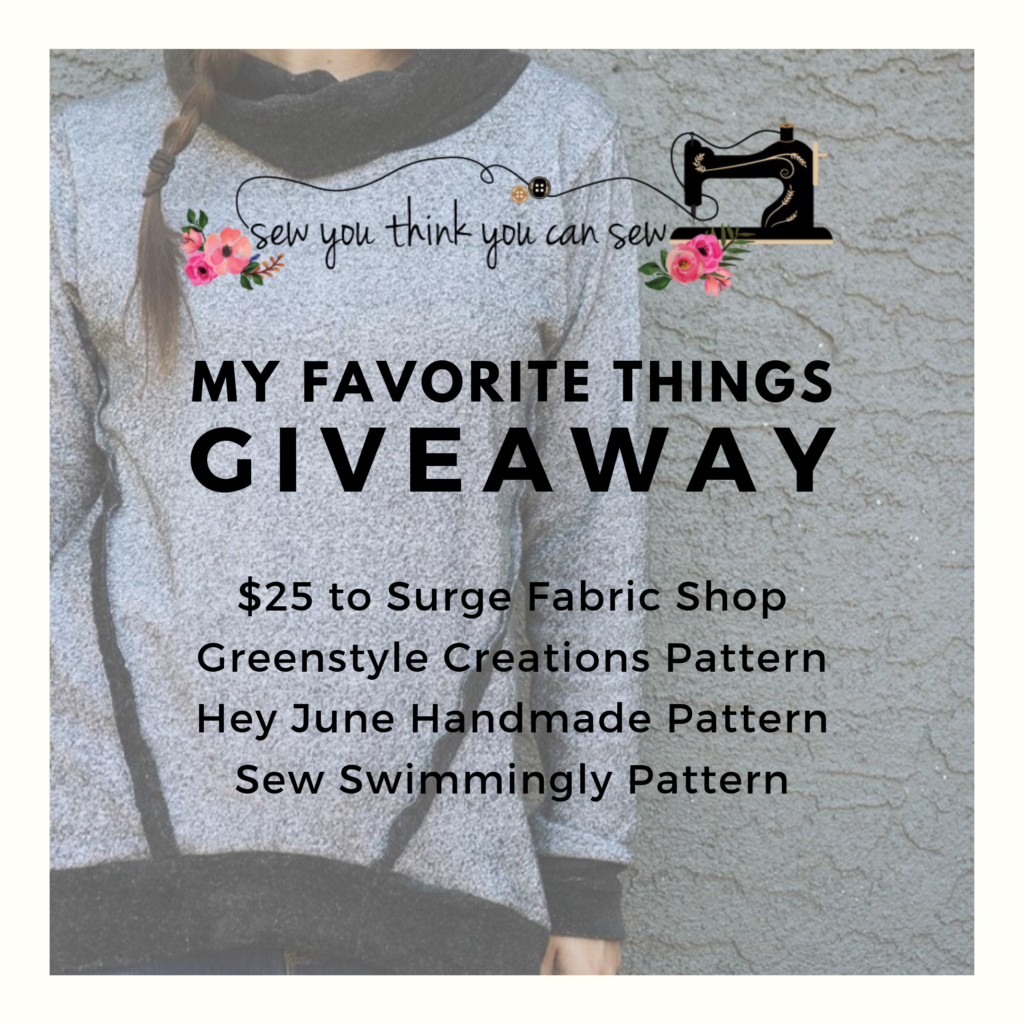 First up on my favorite projects is the Halifax Hoodie from Hey June Handmade. I have made several of them and find myself reaching for them all winter long! These are my two favorites. What I love about this pattern is how easy it is to make look boutique quality. Just changing up the way you handle the side seams makes such a difference. The one above I used a GLORIOUS velour backed French Terry from Surge Fabric Shop, I loved both sides of it so much I decided to do raw seams for the side seams and then use the "wrong side" for the cuffs and cowl as well. On the one below I used Alpine Sweater Knit, also from Surge, and added some black piping to the seams. Again a super easy "hack" but with such fun results!
I wear A LOT of leggings, but these are my most reached for pair. I had found a pair of leggings like them for $120 but knew that I could make them for a fraction of that price! I used the Greenstyle Creations Strides pattern for my base pattern and then added a faux leather accent to the top of the side panel and also added a black color block to the back of the leg. The main fabric is a wonderful premium quality athletic from Surge Fabric Shop called Escher Textured Athletic.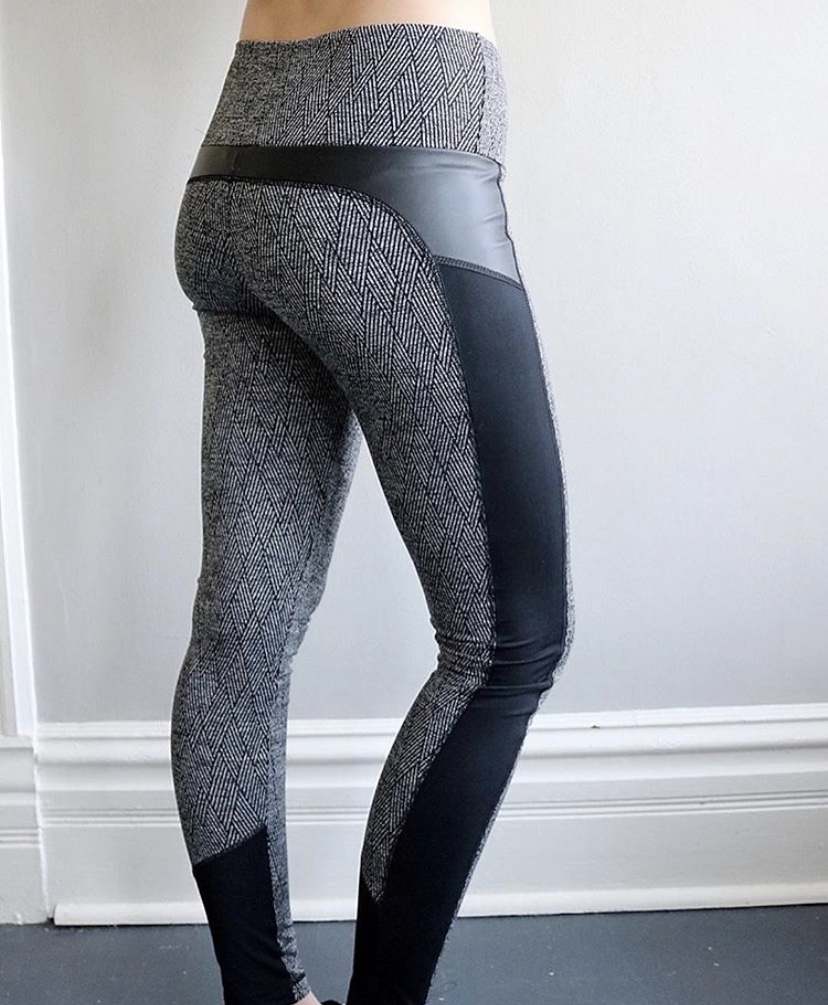 One of my goals for sewing has always been to make a well fitting underwire bra. I finally succeeded this year with the new(ish) Black Beauty Bra from Emerald Erin. Bra making is so fun to me, I love the detail and precision involved. Not to mention it is a great project for all those gorgeous embroidered trims I am always wondering what to do with!
The swim suit was made with a floral swim from a mystery bra/swim box from Tailor Made Shop, I highly recommend trying one of her mystery boxes if you are new to bra making. She includes a good variety of materials and LABELS all of them so you know exactly what you are using. I paired the floral with a mini stripe and solid black (both from Surge Fabric Shop). The only alterations I made to the pattern to make it swim vs. bra was to use swim fabric instead of fold over elastic on the edges and instead of a hook and eye closure I folded the ends over and made channels for the ties to go through.
I would be remiss not to talk about the Brigitte bikini bottoms I made as well. They are from Sew Swimmingly and I love the ruffle detail and color blocked sides. They go together easily and have NO ELASTIC! Which makes this elastic hating girl super happy! I have made a plain side version as well using white power net on the sides and love them just as much as the ruffle version. I recommend going off your waist size when making this pattern.
The bras were made with materials from Surge as well. The Python textured athletic paired with black lace was inspired by a bra made by Amy Highsmith which had completely blew my mind. I hadn't thought of using the Python for bra making but it makes for a super sexy, fun bra I had to copy her! The Calantha embroidered lace version has been a long time coming, I purchased that lace over a year ago with the intention of making a bra. I couldn't quite perfect my fit before so it sat and sat. So seeing it now makes me feel so proud as I finally stuck with it and made the perfect fit for me!
For my final favorite make let's talk rompers. Never really something I was interested in. I mean… peeing? But when I saw the Sirocco from Deer & Doe I knew I needed it. It's 100% my style. I love how put together I feel in it, and yet it is so easy to just throw on in the morning. Easily this is my most complimented outfit I own currently. So far I have made two short versions, both with athletic fabric, as well as one pant version with cupro. (I still haven't photographed the pant version.)
When I look back at where I started almost 3 years ago I can't believe I am able to make the things I am able to make now, so for those of you just starting out keep at it! I'm excited for the future and continuing to learn and grow. Thank you all so much for being a part of that journey!