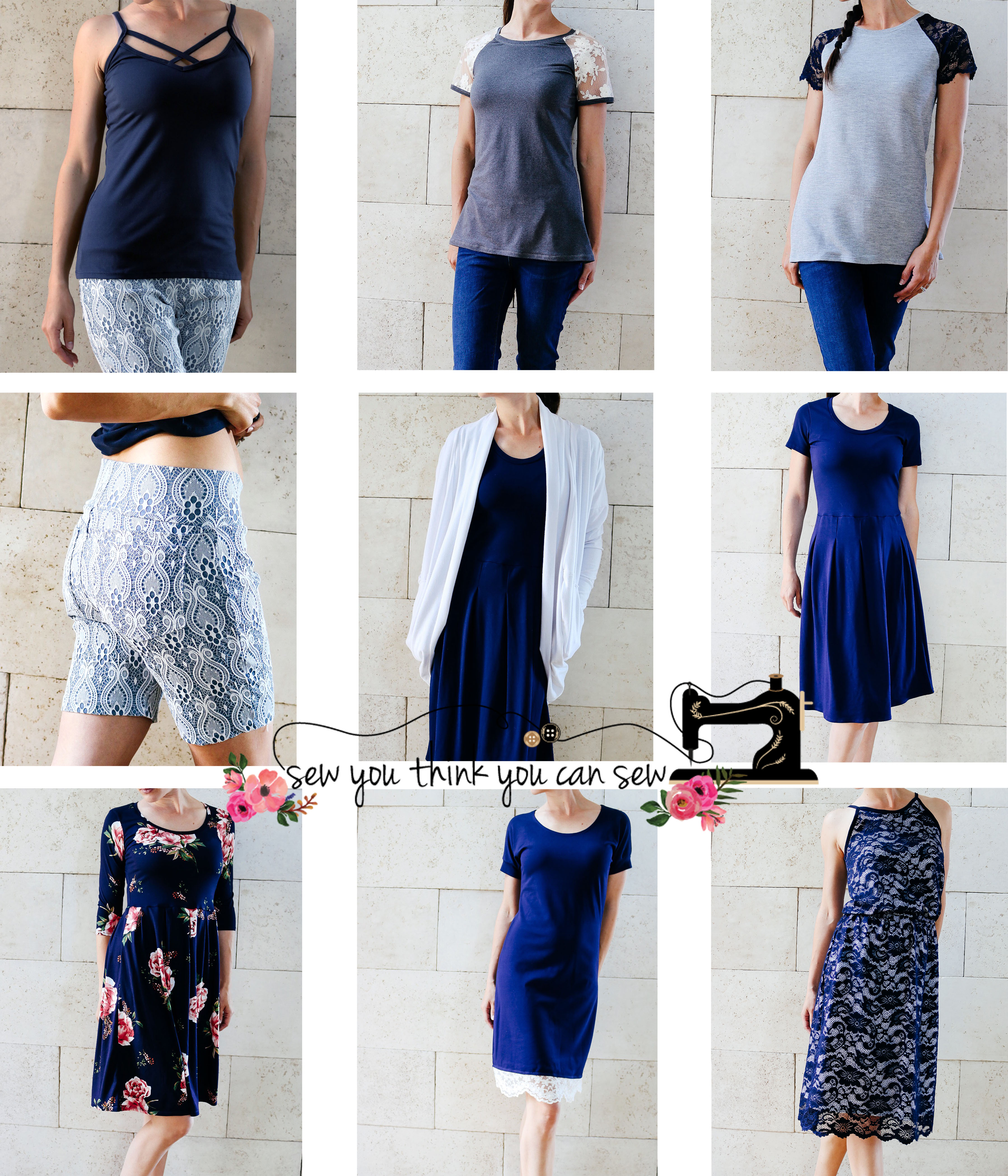 A few weeks ago Patterns for Pirates and Made for Mermaids had a spring mini capsule contest. I was inspired by the contest and got as far as cutting out all my projects and then became extremely ill. I spent about two weeks in bed and was unable to get any of my projects sewn. Fast forward to today and I am feeling much better and finally was able to complete my mini capsule! I figured I would share it with you guys since I am really happy with how it turned out!
For my mini capsule I wanted all the pieces to coordinate and be able to be mixed and matched. I tend to gravitate toward grey and navy so I chose those as my base colors and added white as a third coordinating color. Since the goal was to create a wardrobe that could be mixed and matched I tried to stay away from florals as much as possible since I am not a fan of multiple florals in one outfit.
Now that my color palate was chosen I pulled out every fabric I had that fit the scheme. Thinking in terms of what I wear normally, I knew a good portion of my capsule would be dresses with a few shirts and one pair of shorts mixed in. I also tend to get cold easily so a good cardigan was important. With a general idea of what I wanted in mind I began pairing fabrics with patterns. Most of the capsule is standard patterns with one mash thrown in, I always need to try something new!
The patterns I used were:
Note: Links are affiliate links.

Cross My Heart Cami
For the CMHC I used some scraps of blue/grey yoga knit from Knitpop I have been hoarding. The yoga knit is my absolute favorite fabric for leggings and it was perfect for the CMHC as well because it helps hold everything in place!
Slim Fit Raglan
When I first bought this pattern I figured I would use it one time, but it has become one of my most used patterns. I did two SFRs for my mini capsule. Both are short sleeved shirt length with lace sleeves. In case you haven't noticed by now I am obsessed with lace! As a stay at home mom I don't get to get dressed up very often so I love that a little bit of lace makes me feel dressy but it is still able to stand up to my rough and tumble boys!
Both the laces on my SFRs are from a lace mystery box I ordered from SewVagabond a month or so ago. The entire box is absolutely gorgeous but these are two of my personal favorites. The grey fabric is a wonderfully soft athletic knit from Knitpop. For this SFR I opted to add a band to the sleeve in order to hem the lace. My second SFR is a light weight grey French Terry from So Sew English fabrics, since the navy lace is a border lace I opted to leave the border as the hem. I used fray check on the edge of the lace to keep it from fraying.
SOS Shorts
About a month ago I did a sew along in the Knitpop Facebook group for my Bombshell mash and I still had a little bit of the fabric left over. I knew it would make the best shorts as the fabric is extremely stretchy but is also very stable. I absolutely love how they turned out, although I did have to take them in quite a bit as the initial fit was too large in the legs.
Cocoon Cardigan
I've been holding onto this white sweater knit from Knitpop for quite some time. I loved the fabric but wasn't quite sure what to make. It was the perfect weight for a cocoon cardigan. I made tunic length with tall bands, tall cuffs and patch pockets.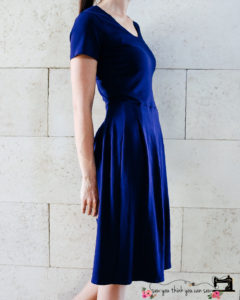 Mama Joy
The Mama Joy is another one of my most used patterns, I unintentionally ended up with two versions of it in my mini capsule. The navy is a gorgeous ponte that I got from Knitpop a while back (I used it on the Sweet Tee dress I made as well). I did a knee length skirt with short sleeves. The second version I made was a 3/4 length sleeve with knee length skirt. This was the one floral that managed to sneak its way into my capsule. It is double brushed poly from Knitpop.
Sweet Tee Dress
I had enough of the navy ponte from the Mama Joy left over to make a Sweet Tee Dress. Since it was somewhat similar to the Mama Joy I made I decided to add a lace hem to it. The simple silhouette of the Sweet Tee is perfect for adding embellishments to.
Ballerina Dress
Of course I couldn't make my mini capsule without one mash, this is a combination of the Slim Fit Raglan as the front bodice, Cross My Heart Came as the back bodice and the Megan Romper skirt. I'm not going to do a full tutorial on this one as it is very similar to the tutorial I recently did as a guest post on DIBY Club.
The main difference between the original tutorial and this one is that I mashed the SFR and Megan Romper for the front of the bodice. Everything else stays the same.